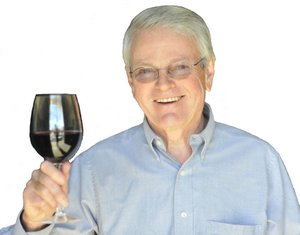 Big reds lead the way at Markham winery.  
When Howard O'Brien sees red he's not angry. He's simply looking at a glass of one of his red wines. And the more intense the color and flavor, the more relaxed the man becomes.
O'Brien is the loquacious proprietor of Chateau O'Brien at Northpoint. The man loves to chat; especially about his wines. But when you focus on the product in the glass you understand why his mantra is quality, quality, and quality.
Typical of Virginia winery owners, O'Brien entered the industry after a successful but unrelated career. In his case, it was circling the globe building his international trade show business.
"Because of my work, I traveled 200,000 miles a year for 20 years. My clients included the UN, NATO, NASA, and the Pentagon among other large organizations. Now I want to live a simpler life," he says.
A simple life centered on complex wines. During his former whirling dervish career, O'Brien found ample opportunity to visit wineries worldwide and began collecting wine 30 years ago. Today, his personal wine cellar contains 3,000 bottles of some pricey wines. "I have no bottle less that $100 in my collection."
Thirteen years ago he sold his trade show firm and opened Chateau O'Brien. While he has homes in Northern Virginia, the Outer Banks, and Florida, most weekends find him living and working at the winery.
To further his wine knowledge he is currently studying to become a Master of Wine. The Institute of Masters of Wine is headquartered in England and is regarded as one of the highest standards of professional wine knowledge. Certification requires passing multiple written and tasting exams and completion of a 10,000 word dissertation. To put the title in perspective there are only 34 Masters of Wine in the United States today.
"I anticipate in three months I'll be done. I am a sponge for knowledge," says O'Brien explaining why he chose to pursue the most rigorous wine accreditation in the world.
The winery & wines
O'Brien credits his staff with playing an important role in the success of his winery.
"Staff training is an ongoing thing. They are involved is all aspects of the operation from the vineyard to the bottling line. My tasting room staff are educated people; lawyers, doctors, school teachers and I want to give them kudos," he says…
Continue reading the article