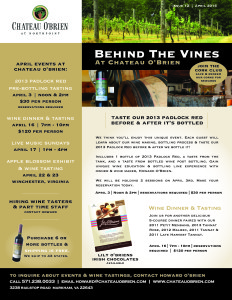 We have a great month planned at Chateau O'Brien with some exciting events off sight and at the winery.
To kick off the month, we are offering a unique pre-bottling tasting of our 2013 Padlock Red, followed by another delicious Wine Dinner Pairing. Join us on Live Music Sundays, where you & your friends can take in the Virginia Wine Country from our heated patio while enjoying a live band & great wine! Lastly, we will be at the Apple Blossom Wine Tasting event in Winchester on April 22 & 23rd.
We hope to see you at one of our events! Find details in our newsletter, Behind the Vines, or under the events section on our website.
Issue 12 | April 2016