Restaurants in the area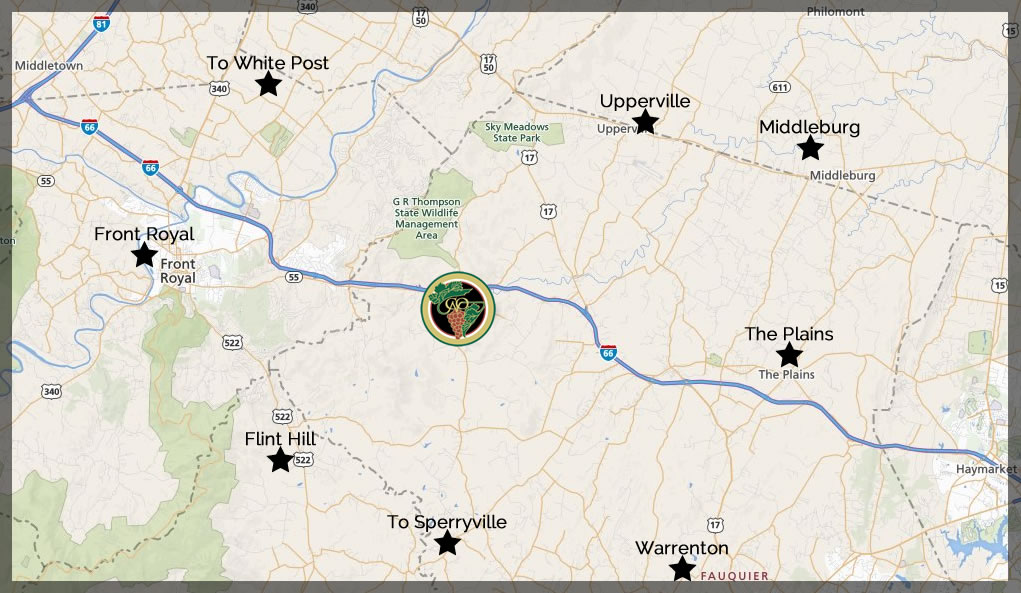 Upperville
Hunter's Head (British) 540-592-9020
Blackthorne Inn Pub (Irish) 540-592-1742Sperryville
Thornton River Grille 540-987-8790The Plains
The Rail Stop 540-253-5644
Girasole (Italian) 540-253-5501Front Royal
Wine and Duck 540-636-1000
Warrenton
Claire's at the Depot 540-351-1616
Poplar Springs Inn 540-788-4600Middleburg
Salamander Inn 540-687-3600White Post
L'Auberge Provencal (French) 540-837-1375Flint Hill
Griffin Tavern (British pub) 540-675-3227
Other Wine Related Links
Bed and Breakfast
Harmony Manor Bed & Breakfast >>
Harmony Manor is a Bed & Breakfast, situated atop a grassy knoll with breathtaking panoramic views of the Shenandoah Mountains and located at 65 Clark Ln, Washington, VA 22747 (540) 522-9379
Glen Gordon Manor >>
Glen Gordon Manor – Huntly, Va. Over the years, Glen Gordon Manor has hosted members of the British royal family and set the scene for many memorable moments and located at 1482 Zachary Taylor Hwy, Huntly, VA 22640 (540) 636-6010

Wine Safari
An Adventure in Wine Country >>
Wine Safari August 2, 2014 Vint Hill Winery, Pearmund Cellars, Chateau O'Brien at Northpoint and Fox Meadow Winery

Irish Web Sites
Celtic Attic >>
Decorate Your Life With A Celtic Twist
Irish Turf >>

Virginia Wine Links
Discover Front Royal >>
MY WINE RACK IS ALWAYS EMPTY!! There couldn't be a more appropriate way to describe the mi-vawine.com web site. Are you frequently hosting dinner parties and and running out of dinner ideas. Erin Britton, a self taught cook who learned from experimenting on her dinner party friends, offers you not only a warm, down to earth look at cooking with wine, but easy recipes (breakfast, lunch and dinner) that anyone can follow. She saves you the time and trouble of guessing how to prepare meals using Virginia wines, but also recommends Virginia wines to pair with the meal – and she will be continuously updating the site with new recipes and other wine information. Check out her web site next time you need a little help preparing a meal.
Virginia Wine Country Tours >>
Virginia Wines >>
Virginia Wine Time >>
My Vine Spot >>
Virginia Wineries Association (VWA) >>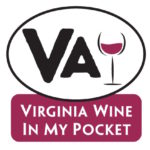 Virginia Wine in my Pocket >>

Articles/Reviews/Blogs
Wine Explored by Wine Accessorized Blog >>
Joshua Sweeney from Wine Accessorized blogs about his visit to Chateau O'Brien at Northpoint
Etiquette at Winery Tasting Rooms >>
After visiting 450 wineries, Wine Trail Travelers wrote an article about etiquette for visitors at winery tasting rooms.
Old Town Crier >>
June 2008 – Chateau O'Brien Unveils Tannat Article
On Tap Magazine >>
July 2008 Article
Wine Trail Traveler >>
Chateau O'Brien Review

Lodging and Restaurant Links
Weekend Oasis >>
Born and raised in Virginia and absolutely love the Shenandoah Valley. Jason Miller, owner Weekend Oasis, rent 3 units in the valley and his goal is to offer the BEST vacation for his guests and make them love the valley as much as he does. He is an avid traveler and knows what makes him happy from luxury resorts (all over the world) to small VRBO's and put those touches into his rentals. Down to earth, easy going, and will make sure you have what you need and get the most from your vacation. WeekendOasis is family owned and operated, not big business — you will notice their personal touches!
When We Get There >>
An exciting list of tourist attractions and travel destinations on the internet – this directory helps you find information and reviews about activities from sites all around the world
Nancy Shepherd House Inn >>
The Nancy Shepherd House Inn is a rare surviving example of an early Winchester tavern or inn, currently in operation as a B&B. It is right downtown in the Winchester historic district, with quaint shops, gourmet coffee houses, pubs, and fine restaurants all within easy walking distance.